If you need to move an instalment date after confirming your order, please see this article.
To set the preferred day of week for your future instalments, you must select this before you checkout.
| | |
| --- | --- |
| Online | Instore |
Your first instalment must be paid when you first place your order, but you can adjust your payment day for future instalments, by a maximum of 3 days in either direction. This means the overall plan could be brought forward or extended by 3 days.
Here's an example:
It is Wednesday when you place your order. Future payments will be set to Wednesday by default:


If you update your preferred repayment day to Friday, the next instalment will be moved to the closest Friday, extending the due date by 2 days from the 20th to 22nd: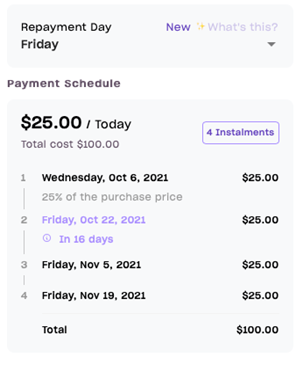 If you update your preferred repayment day to Monday, the next instalment will be moved to the closest Monday, bringing forward the due date by 2 days from the 20th to 18th: