If you're shopping and the total value of a transaction is above the spend limit specified on your Zip account, you have the opportunity to pay for the difference upfront, on top of your initial instalment online and with selected merchants in-store. When you log in to your Zip account on checkout, you'll be informed of the value of the increased initial payment and future instalments.
This functionality is available online with any of our merchants and is currently available in-store with the exception of Chemist Warehouse.
In the example below, the account spend limit is $1,000 but the purchase value is $1,500:
Instalment 1 – $750.00
25% of purchase price + $500 (the amount the spend limit is exceeded by)
Instalment 2 – $250.00
Instalment 3 – $250.00
Instalment 4 – $250.00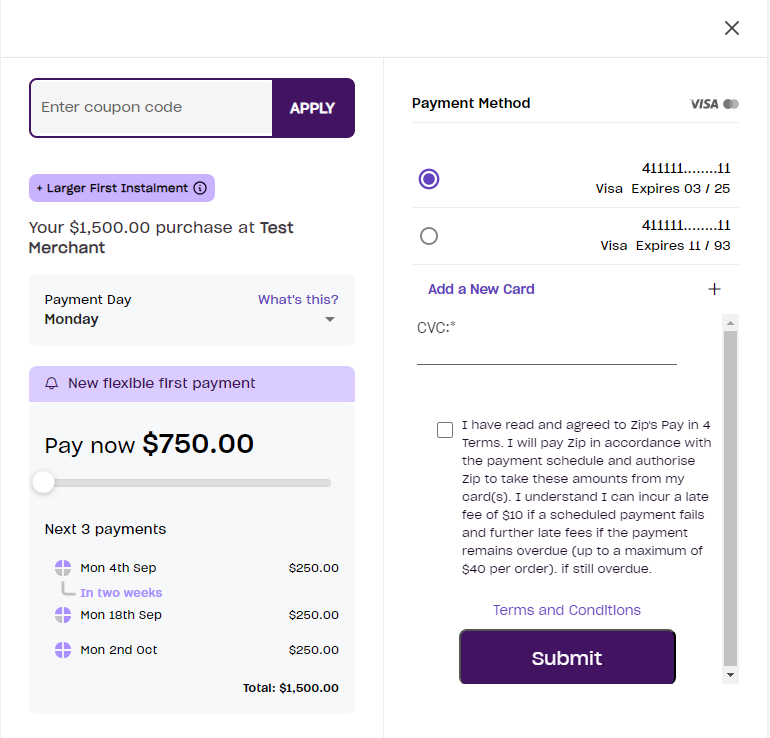 Other retailers may allow split payments, so you could pay partially with Zip and with cash/card for the remaining balance.
If you're purchasing an Early Bird Season Pass with Cardrona & Treble Cone, you can purchase above your Zip spend limit and spread the cost evenly over 4 fortnightly instalments. Read more on this here
Unfortunately, we are unable to manually increase your spend limit, but this will gradually increase the more you shop using Zip.