Zip now allows you to accept split payments in store!
This feature is currently enabled for all merchants nationwide, with the exception of Chemist Warehouse (coming soon).
What is it?
If a customer wants to buy something but doesn't have enough available Zip spend limit to cover it, they can pay the additional amount with their first instalment, and still spread the balance over 6 weeks with Zip.
What are the benefits?
This provides you and your business with the opportunity to increase your average order value with Zip, as your customers now have more freedom to buy higher value items or increase the size or their purchase at your store.
How does it work?
The customer pays a larger first instalment at checkout, to cover the difference between the purchase and their available spend, then pays the remaining balance over 3 equal fortnightly instalments.
For example:
Your customer wants to buy a $1000 Mobile Phone, but has $800 available to spend with Zip.

At checkout, they will pay their first instalment of 25%, plus an additional $200, making the total first payment $400.

Their remaining 3 fortnightly instalments will be $200 each.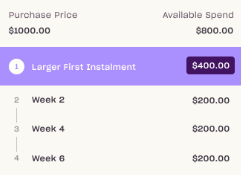 Do I need to do anything different for customers to use this feature?
For transactions above the customer's available spend, simply process the sale the same way as any other Zip transaction. We've already enabled this feature for you, so there's nothing else you need to do. Easy!
From the customer's perspective, the only difference is, for security reasons they may be prompted to enter a MFA (Multi Factor Authentication) code to complete the larger first instalment payment. A code will be sent by SMS to their registered mobile number, which they will then enter in the Zip app to proceed with the purchase.
What if the customer is not able to transact?
Check if the customer has enough funds to make the larger first instalment.

Check if the card associated with their Zip account is valid.

Check if the card controls are not blocking the initial transaction.

The correct MFA code has to be entered to process the initial transaction.

For issues that cannot be resolved via the standard process, please get in touch with the Zip Merchant Experience team here.